Why I Love Ancient Egyptian History and Queen Ahmose
by Lavender Ironside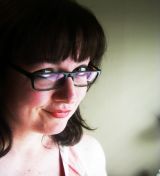 Thank you, Taylor, for having me here to do a guest blog post!
Recently I decided to self-publish my historical novel, The Sekhmet Bed, which is about a real woman from ancient Egyptian history, Queen Ahmose. She was the mother of Hatshepsut, the first woman to rule Egypt as Pharaoh (king). Hatshepsut was a prolific builder who left many beautiful monuments telling the story of her long and peaceful reign. As a result, she is well known to historians and is as well understood as a person can be who lived 3500 years ago.
I have always been fascinated by ancient Egypt, and Hatshepsut holds particular interest for me. In 2007 Egyptologists identified Hatshepsut's mummy, and amid all the History Channel specials and news articles celebrating the achievement, my enthusiasm for the female Pharaoh blazed up. I became preoccupied with Hatshepsut, and imagined what her life must have been like as a child, as a young woman, and as a king. I decided to turn some of my imaginings into a novel, and found as many books on the Eighteenth Dynasty (during which Hatshepsut, among other kings, ruled) as I could. Eagerly, I started my research.
Much is made in the history books of Hatshepsut's mortuary temple, and with good reason. Today it's known as Dier el-Bahri, but in the She-King's time it was called Djeser-Djeseru, or "The Holiest of Holies." It's well-named. The temple is a stunning work of architecture even by modern standards. It stands as regal as a sphinx in the Valley of the Kings, resting with its back against the towering red cliffs, harmonizing with the landscape. Inside it is a monument to Hatshepsut herself, recording her deeds as king, her life story, and even the story of how she came to be...or so she'd have us believe.
Before the Greeks took power, Egypt had a remarkably progressive society -- one in which women could own property and businesses, enter into contracts on their own, serve on juries, vote, divorce at will, or live unmarried all their lives -- whatever suited them. Considering how the rest of the world viewed women in 1500 B.C.E., Egypt was the best place in the world to be female. However, a woman who desired to rule the country as a king still had to treat carefully. Hatshepsut took great pains in Djeser-Djeseru and elsewhere to shoehorn every possible bit of legitimacy into her claim on Egypt's throne.
In her mortuary temple there is a lovely mural depicting her conception. This mural makes the claim that Hatshepsut was literally the son (not the daughter) of Amun, the chief of the gods; that Amun took the mortal form of Hatshepsut's biological father, the king Thutmose I, and seduced her mother Queen Ahmose, who saw through Amun's disguise. The mural claims that Queen Ahmose knew the child she conceived was truly the progeny of the greatest god in the Egyptian pantheon, and furthermore that Hatshepsut's ka -- her spiritual double or soul -- was not female but male. (Some interpretations of this mural and others indicate that Hatshepsut claimed to have multiple male kas...some Egyptologists count up to fourteen, alhthough nine kas was the most common count I found in my research.)
As I began to outline my ideas for a novel about Hatshepsut's life, I found myself more and more drawn to this lovely, intriguing mural. Obviously it was just political propaganda -- yet another surety Hatshepsut hoped to secure, another document to bolster her right to sit on the king's throne. But I couldn't help but think, "What if somebody really believed that Hatshepsut was not a girl at all, and was not only a prince in a princess's body, but was the son of the greatest god known to ancient Egypt?" And then I thought, "What if the one who really believed this was not Hatshepsut, but her mother?" Queen Ahmose, the woman who allegedly saw through the god's disguise and accepted Amun into her bed to create his chosen prince.
This spark of an idea took off in my imagination like a wildfire.
Unfortunately, there is not as much historical information about Hatshepsut's family as there is about the She-King herself. I could find only bare scraps of information about Queen Ahmose, where she came from, what her life may have been like. I did learn that she held, possibly only for a short time, the ceremonial title of God's Wife of Amun, a title that had been uncommon among queens for generations before she lived. What prompted her to take the title, and who bestowed it on her? Why? And, if she was to believe that Amun disguised himself to conceive a prince with her, what would make her so certain in her conviction that her child was half-god, and a son, not the daughter she appeared to be?
Gradually my fictional Ahmose took shape in my mind and on the page. She had to be young -- young enough to be an inexperienced politician, and dually blessed and cursed with a gift for interpreting dreams and visions sent by the gods. And that conception had to be a big deal to her. After long thought, I decided to give poor Ahmose a bit of a traumatic experience to make her terrified of childbirth. This would make the divine presence of Amun in her bed all the more meaningful.
And my Ahmose needed a foil, which I found in the equally mysterious second wife of Pharaoh Thutmose I. This lesser queen's name was Mutnofret, and as with Ahmose, there is hardly more known about her than her name. That gave me considerable leeway to mold her character into whatever I needed her to be in order to serve the story. In The Sekhmet Bed, Mutnofret is the elder sister of Ahmose, and is displaced as the primary queen. Her bitterness is a further challenge to young Ahmose, and soon the two sisters are locked in a battle to become the mother of the next Pharaoh. But I've never been much interested in villains who are only villainous. I did my best to make Mutnofret sympathetic while still being a formidable antagonist.
It's fun to look back on the years I spent developing this novel and to think that it all started with that mural on the wall of Djeser-Djeseru. The mystery that surrounds Ahmose and her family left me with plenty of room to let my imagination play. I am fond of my fictional Ahmose and Mutnofret, I wish I knew more about the real Ahmose and Mutnofret who lived so long ago. Even in progressive ancient Egypt, women often fell by the historical wayside. But they are vivid in my mind, and I hope I've given them voices and faces for you, too.
I am giving away an advance reader's copy (print), too. If you're interested, follow Taylor's instructions to be entered in the drawing!
I hope you enjoy reading The Sekhmet Bed as much as I enjoyed writing it!
----End Blog Post----
--
The Sekhmet Bed - available as an ebook!
Book Synopsis:
"In Lavender Ironside's ancient Egyptian historical, two sisters share a husband and a burning desire to be the mother of the next Pharaoh. With accessibly modern prose, vivid detail, and deadly sibling rivalry, The Sekhmet Bed is reminiscent of Michelle Moran's Nefertiti." ~Stephanie Dray, author of the critically acclaimed Lily of the Nile
Queen Ahmose knows her duty: to give the Pharaoh a son. But she is young, and has just watched her closest friend die in childbirth. If the Pharaoh plants his seed in her she will die the same way, in a pool of blood, surrounded by wailing women. She has her husband's love, but a king must have an heir…and even the Pharaoh's patience will run out. Meanwhile, a lesser queen – Ahmose's own sister – has given him three sweet, bright children, all of them boys. Ahmose knows her grasp on the Pharaoh's heart is loosening.
Desperate, she begs the gods for courage to become a mother. They give her more than courage: she is granted a vision of a shining prince, her son – a gift for Egypt who will bring glory to the land. He will be more than the son of a king. He will be the son of the god Amun.
But when the child arrives, it's a girl.
Ahmose knows the vision was not wrong. Her daughter Hatshepsut has a male soul, and Amun intends the girl to rule. But the Pharaoh will not scandalize Egypt by proclaiming a female successor. If she cannot convince the Pharaoh to accept Hatshepsut as his heir, everything Ahmose loves will be destroyed.
Lavender has kindly offered up one copy of her latest novel The Sekhmet Bed. This giveaway is open

internationally

and it ends

September 17th

at

12:00 a.m.
-You must be a
Follower
of this blog through the
GFC follower
in order to be entered into this giveaway.
-Please leave your
name
and
email address
in order for me to contact you if you are the winner. If an email is not listed then unfortunately you will not be entered.
+1 extra entry for being a new follower of this blog.
+1 extra entry each time you post this giveaway on twitter, facebook and/or on your blog somewhere. To count please leave a link in the comment section.