Hey everyone! Hope you are having a great weekend! So sorry for the lack of reviews and posts these past two weeks. I have been really busy with work and school. Not to mention constant house work because we are in the process of selling our house which mean our house has to be constantly spotless because you never know when some one will want to see the house. Anyway, there will be new reviews coming very soon! Thanks so much for being patient with my absence.
Now on to announcing the winner of To Die For by Sandra Byrd! Please help me congratulate...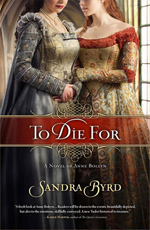 Email has just gone out so please send me your mailing address and I will forward it on to the publisher.